Bike Fitting
A PROPER BIKE FIT CAN CHANGE EVERYTHING
Specialized Body Geometry Fit Integration Technology
Riding a bike shouldn't be painful. Well, unless we're talking about the kind of pain that comes when you're pushing yourself to the max.
But a casual pedal shouldn't hurt. Your butt shouldn't hurt. Your hands and elbows shouldn't hurt. Your knees shouldn't feel pressure.
If you're experiencing any of these things, chances are you need a professional to analyze the fit of your bike. Here's the great news! While many riders think they need a new bike, often they just need adjustments on their current bike. Simple centimeters can make a world of difference in your comfort level, and reduce the chance of injuries.
Now let's talk about our fit professional. Mark Branle is not only the owner of Intercourse Bikeworks, but also a Body Geometry Certified fit technician. This doesn't mean he took an online course and printed out a certification. Mark actually flew to Specialized's headquarters in California to take an intensive multi-day course with lots of post course homework and assignments. Those in the industry know that Specialized is the leader in comfort technology. There's no better certification to have. Add to that Mark's 20+ years as an elite mountain biker and Masters road racer and you've got the perfect guy for the job. Embarrassingly, Mark waited 15 years before getting fit on his own road bike. That first fit made him a believer. The result? More speed, more comfort, and better bike handling…oh, and a NJ State Championship.
Procedures and Practices of Body Geometry Fit Method
PRE-FIT INTERVIEW
Every fit – whether it is for a novice or experienced cyclist – starts with a brief interview between Mark Branle and the rider that addresses the individual's injury history, needs and goals.
PHYSICAL ASSESSMENT
A 20-step evaluation to create an accurate picture of the individual's flexibility and other physical attributes, including assessment of foot structure, knee position, spinal curve, shoulder extension, hip flexion, and leg length, among other things.
SIDE VIEW
Laser AND Video Capture Analysis using a side view of the rider. The goal is to deliver a correct neutral position that's both powerful and comfortable through adjustments to seat height, handlebar height, stem length, and cleat position.
FRONT VIEW
Laser and Video Capture Analysis from frontal view to optimize hip, knee, and foot alignment for greater performance and balanced power delivery. This includes analysis of pedal and shoe placement and squareness on the saddle.
FOLLOW UP
Immediately following the Body Geometry Fit, a fit profile is emailed to the customer outlining the results of the fitting. After two weeks, Mark will schedule a follow up visit to discuss the results of the fitting and make any necessary adjustments based off of customer feedback.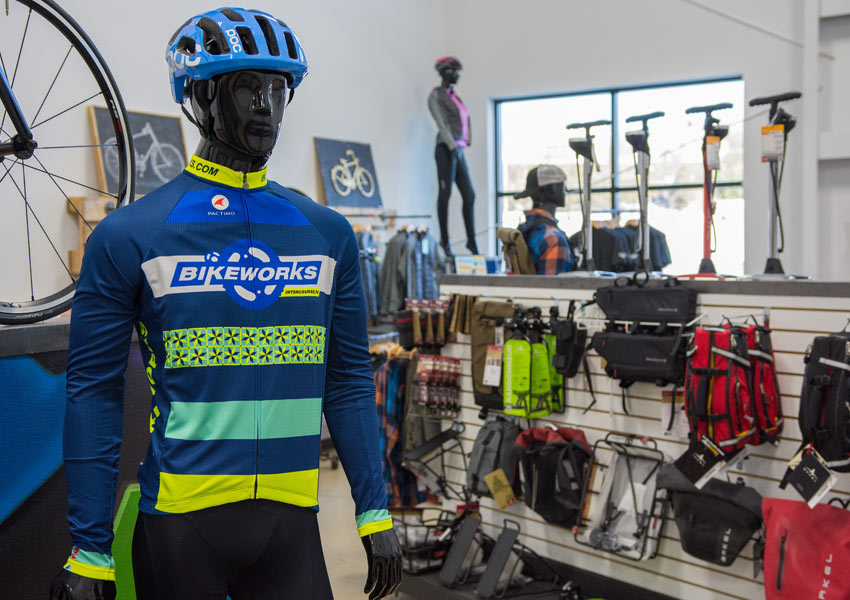 Body Geometry Fit is the most comprehensive fit system available to all riders, regardless of experience level or brand of bike. It goes beyond the basics and is an individualized system focusing on all aspects of a rider's position. This process is scientifically proven to improve foot, knee, and pelvis support, reduce injury, and increase power, and is the same method that is used with top professional riders in all cycling disciplines.