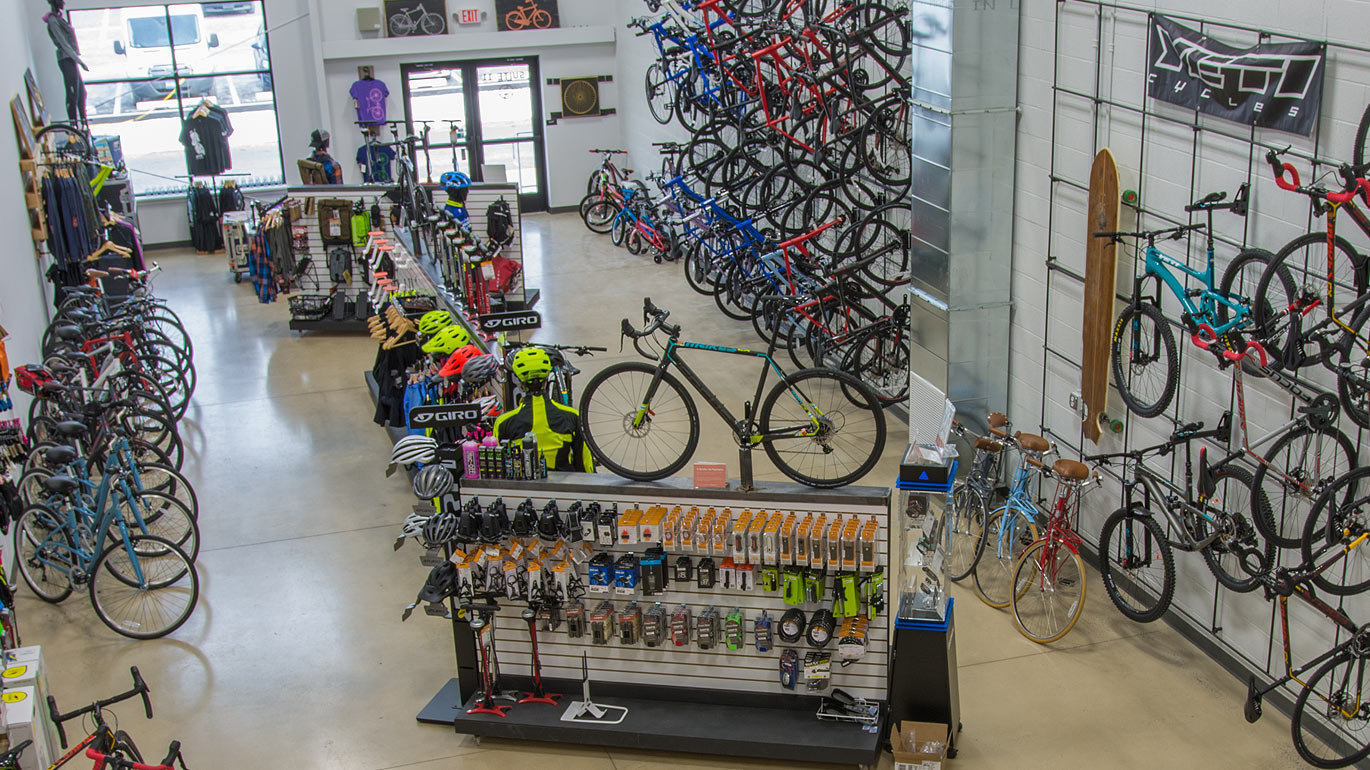 Bikeworks
In Lititz and Intercourse
We aren't your average bicycle business, and that's exactly how we like it.
Let's start with Intercourse (stop giggling). It's where Bikeworks began, and where we've made our most recent changes. We're switching gears, and in doing so giving our awesome customer base, and folks from far and wide, a distinct reason to visit the shop – aside from the mind-blowingly awesome local riding.
From this point forward, when you're looking for the deal of the century, you're gonna have to head to Intercourse, Lancaster County's first and only Bicycle Outlet. We'll still stock and sell the world's best bikes, including Specialized, Jamis, Salsa, Pedego, and Biria, but now our entire stock is priced significantly below MSRP. Some bikes are leftovers from the previous season, some are bought from the manufacturer at overstock prices, and some are pre-owned.
And we have a heckuva lot more, too!
Gloves, helmets, shoes, apparel – all are marked at outlet prices (well, except for our too-cool-for-school shop jerseys), resulting in huge savings! Oh, and for those just looking to ride, this might just be your new go-to shop. Our famous wall of routes offers a selection of scenic, low-traveled rides ranging from 10 to 30+ miles.
LITITZ BIKEWORKS
Our second shop, still anything but average.
You didn't think we'd open a second location and start trying to fit in, did you? Nah, we're still happy black sheep, breaking away from the herd and doing it our way. One part everything-you'd-expect; one part no-way-they-have-THAT.
Let's start with what you'd expect, like exceptional service. LBW brags big that we scored local industry favorite, bicycle racer and enthusiast, amazing mechanic, even better dad and all around great guy, Eric Mason, to head up a seriously tuned in service department.
And the bikes. OH. THE. BIKES. LBW jumps ahead of the pack with a lineup like no other, starting with America's most wanted brand, Specialized. We stock a large selection of race king, Peter Sagan's, sleds of choice, as well as their industry leading shoes, saddles, gloves, and tires. For the budget-conscious rider who wants some serious bang for her buck, we've got Jamis' full line of rad rides, from kids' bikes to hybrids, and everything in between. Salsa Cycles brings mountain and adventure bikes at midrange prices with smart, one-of-a-kind design. We grabbed some exciting exclusives, too, becoming the only shop in Lancaster County to sell BMC bikes and Pedego Electric Bicycles.
And with that we transition into "no-way-they-have-THAT"! LBW is the first bike shop in the area to maintain its very own on-site cyclocross course with an advanced segment for the technical rider and a beginner loop fit for riders of all levels. Those looking to ride on the road will love our selection of great riding routes, ranging in length from short and sweet to long and rolling.
Indoors, our gift boutique features a unique selection of cycling-themed art, glassware, jewelry, and apparel. Speaking of apparel, our custom kits are renowned for out-of-the-box design that everyone wants to wear. Other brands we're stoked to carry include Giro, Kuat Bike Racks, Muc-Off, Gu, and Gore Bikewear.
Oh, and did we mention we're located on the coolest campus on Earth? We're thrilled to be part of the Rock Lititz community.